Why It Matters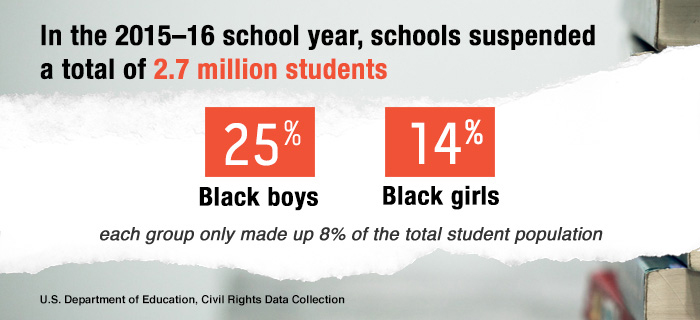 There is a large body of research illustrating the correlation between exclusionary discipline practices and an increased likelihood of not graduating from high school and involvement with the criminal justice system, as well as lower academic performance.
The "school-to-prison pipeline" refers to the trend of school discipline policies that have disproportionately affected certain student populations and contributed to their involvement in the criminal justice system. Research finds that disproportionality in school discipline rates "not explained by more frequent or more serious misbehavior" by students of color.
Students of color and students with disabilities are disproportionately suspended or expelled
According to numerous academic and government studies, Black and Latino students are suspended, expelled, and arrested at far greater rates than their white peers.
During the 2017–18 school year, the most recent year for which federal data are available, schools suspended a total of ~2.5 million students, equating to 11,205,797 missed days of students. Black students made up 38% of the out-of-school suspensions, even though they only accounted for 14% of the public school population.
Students with disabilities are also disproportionately disciplined. During the 2017–18 school year, students with disabilities represented 14% of total student enrollment but 25% of total suspensions.
Data on resource officers
During the 2017-18 school year, about 46% of traditional public schools had a School Resource Officer present at school at least once a week, compared with only 19% of charter schools. Conversely, a higher percentage of charter schools than traditional public schools had a security guard or other security personnel present at least once a week (35 vs. 21 percent).

During the 2017-18 school year, a higher percentage of schools with 1,000 or more students had at least one sworn law enforcement officer who routinely carried a firearm (79%) than schools with 500-999 students (52%), schools with 300-499 students (36 percent), and schools with less than 300 students (34%).
Social and emotional learning (SEL) is the process through which children and adults acquire and effectively apply the knowledge, attitudes, and skills necessary to understand and manage emotions, set and achieve positive goals, feel and show empathy for others, establish and maintain positive relationships, and make responsible decisions.
As educators know, and as research has shown, social and emotional learning is critical to student learning and success.
Students in SEL programs are more likely to attend school and receive better grades, and are less likely to have conduct problems.

A meta-analysis of studies on SEL program outcomes involving more than 300,000 K–8 students found positive impacts from the programs both in and out of school, across racial and ethnic backgrounds and geography, and regardless of student history of emotional or behavioral issues.

A 2015 analysis found that, on average, every dollar invested in SEL programming yields $11 in long-term benefits, including reduced juvenile crime, higher lifetime earnings, and better mental and physical health.

An analysis has shown that the academic performance of students exposed to SEL programs was an average of 13 percentage points higher than their non-SEL peers.

Conduct problems, emotional distress, and drug use were all significantly lower for students exposed to SEL programs, and development of social and emotional skills and positive attitudes toward self, others, and school was higher.

Research has shown that SEL can improve school climate and culture, which can in turn reduce chronic absenteeism.

Using SEL can contribute to numerous factors critical to student attendance, including engaging students in learning, getting them more excited about school, and reducing depression and stress.